Our lovely island between Rhodes and Crete, still a very genuine place without any major tourism and friendly people, its a great holiday place for all kind of families, couples as well as windsurfers, since it gets quite windy here often, keepping you fresh during the hot summer nights, and makes even the hottest summer days enjoyable.
History brief about Karpathos island
Karpathos is mentioned by Homer in the Iliad and the island might have been inhabited from prehistoric times. According to legend, there lived the king of the Titans, Iapetos, son of Uranus and Gaia. It was also here Athena sprung out of her father Zeus' head. It is very likely that the island was part of the kingdom of the Minoans of Crete in the 2nd millennium BC. The Dorians came in the 9th century BC and settled here. In the beginning of the 13th century the island (called Sarpantos) came under Venetian rule after Constantinople had fallen, and in the 16th century the Turks followed. They stayed here until 1912, when the island was taken by Italy. In 1948 it was finally given back to Greece.
Getting around and the beaches of Karpathos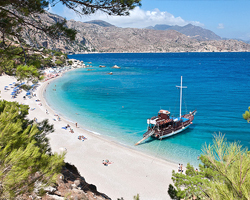 There is a quite good network of buses connecting Pigadia,
the capital of the island, with several beaches and villages.
Special trips to Olympos and to other must see places
can also be arranged through the boat and bus network of the island. There are also car and bike rentals the visitor can use. Taxi services are also available. In general, there are many beaches, coves and rocky shores on the island, where you can swim . Karpathos has many small beaches, sandy or with pebbles, which are away from the crowds offering direct contact with the natural serenity and tranquility.
Things to do when in Karpathos
Karpathos is a great place for windsurfing and taking long walks. The snorkelling is also very good as well as the diving (there is also a diving school here). Explore the villages - they're very original. There are bus tours all of them. The island is also ideal for climbers because there are many climbing locations on the mountains. Most bars and clubs are in Pigadia. Greeks love staying out until late, you'll simply have a very good time. Karpathos also have bars and nightclubs with Greek and foreign music, covering the full range of nightlife.
Even today in Karpathos can be found alive the folk tradition. The local songs, accompanied by traditional instruments like tsampouna, the lyra and the lauto you will often hear at weddings and festivals, in local cafes and restaurants.

Tradition today in Karpathos island, General information